If you have just clicked on the janwhitaker.com link and expected to see my prior life in IT consulting, welcome to my new blog.
Life is all about change. And so it is for me. I've pretty much hung up my IT workboots, except for volunteering with a local Berwick Computer Club, and am focusing my efforts on writing.
I've published my first novel, On A Life's Edge, available from many online bookstores (by JL Whitaker). More books to come over the coming months. More blog posts about that coming, too.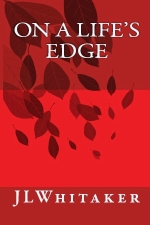 Another addition to my social media life is Twitter – JL_Whitaker. I'm still looking for a Tweet widget for this blog. If you read something interesting here that you feel the rest of the Twitterworld might appreciate, feel free to Tweet away. I will also connect up as many of my posting places as possible, too, including my Amazon Author page.
I will be posting here about a range of interests: my writing activities, interesting things I find on the net, politics, privacy, computers and technology, and what ever grabs my fancy on the day. I've even been known to put up some of my art from time to time, hence the name of this blog: JL Whitaker Creations.
If you have a comment to make, don't be shy. If you're a reader of my stuff, either published or here, jump in. Tell me what you think. Ideas for what a character might do next? Let me know!

Thanks for reading!