Is not all that we do in Family History Research because we are curious? About where we came from. Who our ancestors were. What their lives were like. Why they moved from place to place. What they did, who they married, and how they died. So many things to be curious about, so it's difficult to narrow in on one specific thing, but I'll have a go.
The first person who came to mind is my great great grandfather, Zachariah Whitaker. I know only the basics about him. Born 10 September 1836 in Vigo County, Indiana on the family farm near what is now Lewis; married Cassandra Stuck, moved the family to a farm in eastern Clark County, Illinois, enlisted in the Illinois Infantry but was out in a few months due to an elbow injury, came home, had a few children, and collapsed and died at age 56 after leaving a Sunday school meeting on 20 November 1892 near Hardinsville, Illinois, several miles from his home in West York.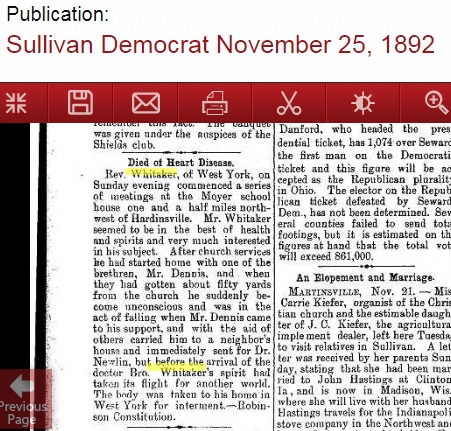 What I am curious about and have searched for endlessly is for what church he was a Reverend. He came from a line of Baptist preachers – his father Isaac and grandfather John before him. Their churches were well documented and known, both in Kentucky and in Indiana.
Zachariah and his wife Cassandra are buried in Plymouth Cemetery, which, after being curious about its history while writing this post, I discovered was a Methodist Cemetery. A brief article about the church and cemetery at https://clark.illinoisgenweb.org/church/church_plymouth.html lists many names of the families near his farm in Melrose Township and spouse names of his children and others: Ralston, Drake, Due and Dix. This is seeming less and less curious. Perhaps he and his family joined the Methodist Church instead of the Baptists. I would think it unusual for a practicing Baptist preacher to be buried in a Methodist cemetery. So was he ordained as a Methodist minister? I have done lots of research about the Baptists, but not about the Methodists.
New leads!